So I thought I had found the final version of this track earlier, but it turns out this was actually the rumored collab that was supposed to have ELEVEN features. In case you ever wondered what Elton John, Ryan Leslie, Kanye West, Kid Cudi and Alicia Keys would sound like on a track together, check it out.
Posted by The Professor
·
Wednesday, Nov 3, 2010 @ 7:37 pm
· Artists: Alicia Keys, Charlie Wilson, Elly Jackson, Elton John, Fergie, John Legend, Kanye West, Kid Cudi, Rihanna, Ryan Leslie, The-Dream, Tony Williams
@ 19:37
The latest installment from Kanye's G.O.O.D. music Fridays. On a Saturday.
I only hang with white boys that like black sluts
Posted by The Professor
·
Sunday, Sep 19, 2010 @ 4:01 pm
@ 16:01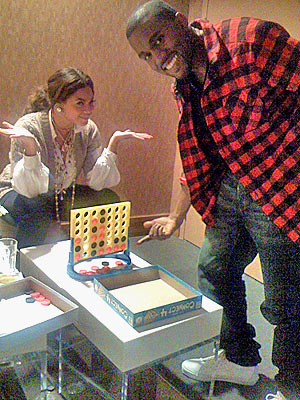 New hyped track that Mr. West said he would release on his Twitter last night. Sure it's Kanye and Beyonce on the same track, but its my man Charlie Wilson who kills it. Just playing, but seriously love that guy. Produced by Kanye, No ID, and Lex Luger.
See Me Now by Kanye West ft. Beyonce and Charlie Wilson: Download UPDATED LINK
Posted by The Dean
·
Wednesday, Aug 11, 2010 @ 5:14 pm
@ 17:14