Picking your top 10 favorite songs is like picking your top 10 favorite friends. Its kinda uncomfortable because you know there are so many more you want to include. They are all unique and have special meaning to you. And you're probably going to realize you left one out once you finish the list.
Nevertheless, the Dean and I have both undertaken the challenge. I'm posting my favorites today, The Dean is posting his tomorrow, and then on Friday, we'll post the most popular songs of 2010 overall. Feel free to hop in the comments and offer feedback.
Without further ado, my number 10:
10. "Real Estate" by Wiz Khalifa – Mr. Khalifa had a pretty sweet run this year. He was able to increase his mainstream appeal while simultaneously maintaining his hip-hop fan base. Definitely not an easy transition when you're an artist whose career has been based on grassroots support. For that, he has earned my respect and the first spot on the countdown.
9. "Chip Off The Block" by Machine Gun Kelly – Maybe I'm partial because I know the kid, but I feel like MGK is not getting enough shine for how talented of a rapper he is. This was a big year for him, with a feature on MTV and cosign from Big Sean. "Chip Off the Block" showcases his talent and potential. Plus its a great track for pregaming on nights when you're tryna get buck.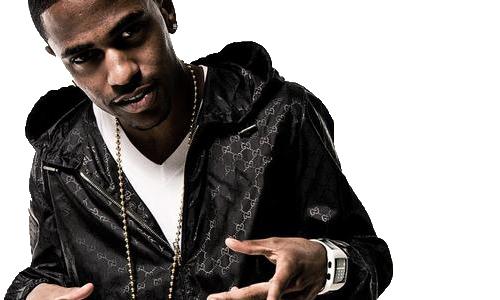 8. "Supa Dupa Lemonade" by Big Sean – Yah I know this was Gucci Mane's track first, but I could barely remember that song once I heard this. This song put Big Sean on the map for me and a lot of other people and remains one of my all-time favorite lyrical pieces. Sean goes hard from start to finish. Also check out "Too Fake" ft Chiddy Bang.
7. "Show Goes On" by Lupe Fiasco – Despite some woes with the label, Lupe dropped a few golden tracks on us this year as a teaser for what's in store in 2011. This was one of the most popular posts on the site according to the thumb ratings (we check those!) and I can see why.
6. "Over" by Drake – As much as the media fawned over Kanye's album this year, I think Drake's Thank Me Later was the most impressive. It's hard to believe that that was his first studio album when you consider how much swagger he carries and attention he attracts. "Over" was the first single released from that album and was one of my favorite songs this summer. Other TML notables include Unforgettable, Miss Me and Up All Night. Plus his "9AM in Dallas" freestyle is absolutely filthy.
Hit the jump to finish reading:
5. "Beamer, Benz or Bentley" by Llyod Banks – This beat is just too hot. I had to link to the remix since the original version dropped back in February.
4. "Start It Up" by Llyod Banks ft. Kanye West, Swizz Beatz, Ryan Leslie, Fabolous – I never really considered myself much of a Llyod Banks fan until I started making this list and realized how many hot tracks he made this year. This song is highly underrated in my opinion. All of the verses are filthy and the production is on point. Whatchu gon do? It's G.O.O.D. music aand G-Unit…
3. "All Of The Lights" by Kanye West ft. John Legend, The-Dream, Ryan Leslie, Tony Williams, Charlie Wilson, Elly Jackson, Alicia Keys, Fergie, Kid Cudi, Rihanna & Elton John – I hated Kanye for most of 2010. Just everything about his personality was repulsive. I was also pissed that he jettisoned the upbeat style that got him famous with The College Dropout and Graduation. But having listened to My Beautiful Dark Twisted Fantasy enough times, I think I get it. I think I get the new Kanye. And now that I've come to terms with what he is and let go of what he was, I can't help but appreciate what he's doing for music with tracks like this. Plus this track is just hot w those horns and Rihanna on the hook. I was considering it for a spot higher than #3, but I had to give those spots to…
2. "Black & Yellow" by Wiz Khalifa – Anyone who doesn't have this in their top 10 must be living under a rock. This beat was so hot that rappers of all stripes tried to hop on and make a remix, but none could compete with Wiz's original. I don't think a weekend went by where I didn't hear this played at least a few times at parties. Plus this is currently my ringtone, which is the final seal of approval. There's only one other track that impressed me more…
1. "Aston Martin Music" by Rick Ross ft. Drake & Chrisette Michelle – I just can't say enough about this song. The beat is easily my favorite of the year. Chrisette's vocals make me feel like I'm cruzin with the top down. Drake's verse is easily the hottest of the year and his flow gives me goosebumps every time. And Rick Ross adds the perfect amount of swagger. Ever since I heard this song, I've been waiting to make this list so I could put it at #1.
UPDATE: A reminder that these are just my personal favorites. The Dean will be offering his list tomorrow and then on Friday, we'll give you the overall hottest songs of the year.
Posted by The Professor
·
Wednesday, Dec 29, 2010 @ 3:32 pm
6 responses
@ 15:32